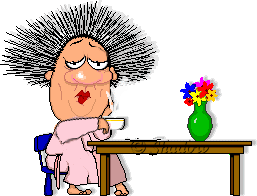 Entrepreneur hours aren't 9-5. Not if they want to be successful.
Recently another writer chastised me for having my computer on while my husband was home. I admit, it stung. The implicit message was that whatever work I was doing on the computer wasn't as valuable as whatever I might have been doing for or with my husband.
Fortunately for me, my husband does not agree with her. He knows that it takes more than full time hours to start and run your own business...and when you are hand-creating the product you sell (ie writing the novels you publish) it takes even longer.
I love the term Mom-preneur. It signifies that Mom is also a full time job. Staying at home to raise your children and running a business isn't all together too different from having a full time job and starting a business on the side. In other words, in both of those situations you will both burn the midnight oil and burn the candle from both ends!
That was me, last night. (And many, many other nights.) I had the idea to create a Cozy Mystery Magazine Sample book many moons ago and finally had time (or finally created time) to finish it.
The other amazing authors on this blog provided their samples, covers, bios, photos, and legal permissions, and I put it all together. It's in approval stage right now...first to Nancy who spearheads the blog, then to the other authors.
After that I will publish it to Smashwords for free to be distributed to all of the online bookstores. As soon as it arrives on those shelves it will be published to Amazon (so that it can be made free there as fast as possible.) It will also be available for any of the authors here to give away from their blogs and hopefully from this blog as well! Until then, here's the cover...I have to say, I'm rather fond of it!
Traci Tyne Hilton burns the midnight oil writing
The Mitzy Neuhaus Mysteries
,
The Plain Jane Mysteries
, and other things like a Shaker Romance (coming winter 2013.) She has two zany daughters in gradeschool, a chicken with post traumatic stress disorder, a duck with entitlement issues, a dog who won't stop sleeping on the couch and a very nice husband who doesn't mind (usually) if she has to work while he is at home.